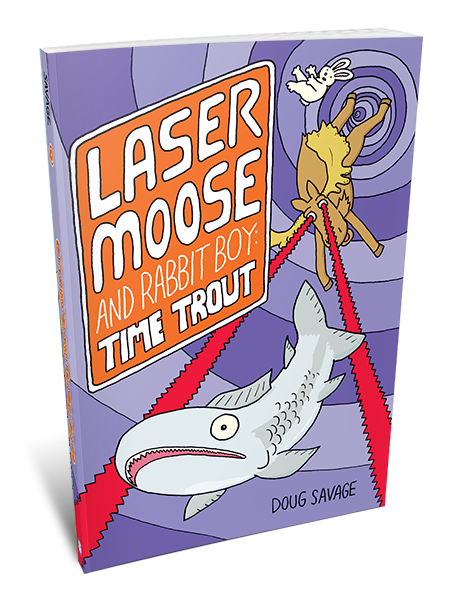 Laser Moose and Rabbit Boy return!
Our heroes are back for a third book, and it's about time! When a time-traveling fish causes problems in the forest's past, present, and future, Laser Moose and Rabbit Boy need to set things right, with a little help from a raccoon doctor and a newly three-legged Frank the Deer.
Praise for Laser Moose and Rabbit Boy:
"With rampant whimsy and cheerful silliness, expect this to hit funny bones with laser accuracy."

-- Kirkus Reviews
Three Exciting Books
The series continues!
New in September 2019
Laser Moose and Rabbit Boy need to deal with a time-traveling fish. Along the way, they confront old enemies, new enemies, future threats, and Laser Moose's own mysterious past. Get ready for an action thrill ride of time-bending fun!
The thrilling sequel
Laser Moose and Rabbit Boy face a familiar foe, a terrifying new enemy, and the frightening possibility that lasers can't solve everything in their biggest and most dangerous adventure yet.
An accident (involving a pine cone, a fish, and a truck delivering disco supplies) triggers a series of events that leads to the ultimate confrontation between Laser Moose and his nemesis Cyborgupine. And it's a fight that Laser Moose can't win with lasers. Especially when faced with a malevolent new enemy: a cute little chickadee.
The original graphic novel
Featuring three exciting stories. Laser Moose and Rabbit Boy take on aliens, a mutant fish-bear, and a mechanical squirrel. And Laser Moose's nemesis, the evil cyborg porcupine Cyborgupine.
Read
A Sneak Peek Inside the New Book
Characters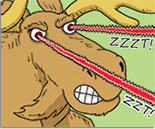 Laser Moose
He's a moose that shoots lasers out of his eyes, and he's here to protect the forest from evil.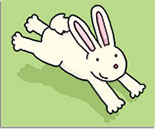 Rabbit Boy
Laser Moose's eternally optimistic sidekick. Always looking on the bright side.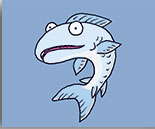 Trout
Fish, grasshopper enthusiast, and accidental time traveler.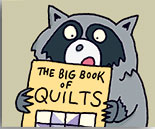 Doc
She has a talent for junk collection, quilting, and minor surgery.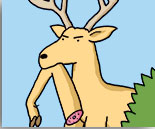 Frank
Not Laser Moose's biggest fan, but he's got his reasons.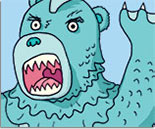 Aquabear
A toxic waste spill turns this mild-mannered bear into a crazed monster. Stay out of his way!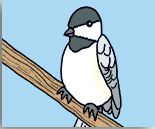 Evil Chickadee
Bad things happen when this cute little bird is around. But is he evil, or not?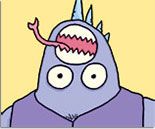 Aliens
Visitors from another world. But what do they want from our world? Do they come in peace?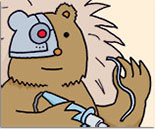 Cyborgupine
This cyborg porcupine is Laser Moose's evil nemesis. Always plotting to destroy the forest. Or Laser Moose. Preferably both.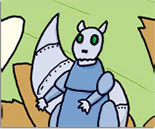 Mechasquirrel
Cyborgupine's creation, a mechanical squirrel with the power to destroy the entire forest.
What people are saying about Laser Moose and Rabbit Boy
Kirkus Reviews
Publishers Weekly
Booklist
The Bookshelf Gargoyle
Daddy Mojo
GeekDad
The Bulletin of the Centre for Children's Books
The Georgia Straight
With rampant whimsy and cheerful silliness, expect this to hit funny bones with laser accuracy.
It's goofy, off-kilter fun, ideal for fans of shows like Adventure Time and Steven Universe.
Middle grade readers who like their sci-fi and superhero stories zany, crazy, and with lots of ironic humor will enjoy these adventures.

Kat Kan, Booklist
Booklist.com
A worthy Top Book of 2016 pick indeed, and I thoroughly recommend that you too pick up a copy...
Laser Moose and Rabbit Boy is easily one of the best graphic novels of the year.
It's a very silly book but quite entertaining
It's an odd concept, but an irresistible one; this is going to be a hit across a wide range of readers.
Truly funny... Big-hearted dotty fun
Are you ready for the next

Laser Moose and Rabbit Boy?